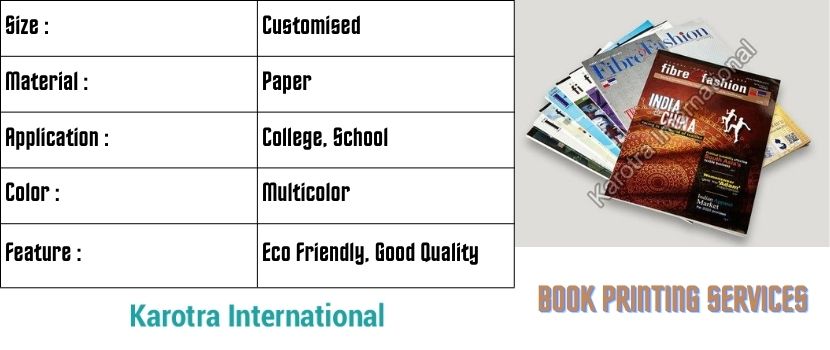 In today's digital age, the allure of holding a physical book in your hands is undeniable. Whether you're an aspiring author or a self-published writer, finding the right book printing service is crucial to bring your literary masterpiece to life. This article will guide you through the process of choosing the best book printing services, ensuring that your vision becomes a reality.
Determine Your Printing Requirements
Before embarking on your search, clearly define your printing requirements. Consider factors such as the book's size, format (hardcover, paperback, or both), paper quality, and color options. Understanding your needs will help you narrow down the list of potential printing services that align with your specifications.
When it comes to book printing services, there are various options available in the market. To choose the best service for your project, it is important to define your printing requirements.
Communication and Customer Service
Working with a book printing firm requires effective communication and superior customer service. Make sure the service provider responds quickly to your questions and issues and is trustworthy and reliable. To get the desired result, communication must be open and clear at all stages of printing.
Take into account the degree of communication and customer support provided by each printing provider. Communication that is prompt and effective is essential to ensuring that your needs are recognised and taken care of throughout the printing process.
During the early enquiry phase, pay close attention to how the printing business handles contacts. Do they offer information that is precise and thorough? Consider whether they are prepared to comply with any particular demands or customisation choices you may have.
Costs and turnaround time
While comparing quotes, take into account the offered level of quality. Ask about the anticipated turnaround time as well to make sure it fits within your plan for publishing.
Get comprehensive quotations from the printing providers that made the short list. Make sure that the quotes cover all necessary expenses, including printing, binding, shipping, and any other fees. While price is a crucial factor to take into account, keep in mind that not always the cheapest alternative will provide the needed quality.
While comparing the quotes, keep the total value for the money in mind. Examine each printing service's pricing and the calibre of the work they provide. Keep in mind that long-term outcomes and customer happiness may be improved by investing in higher quality.
Services Not Listed Here and Customization
Take into account any extra services or customisation possibilities that the printing service may offer. Assistance with graphic design, typesetting, proofreading, or marketing materials are a few examples.
Check to see whether the printing company provides any extra services that can benefit your project. They could aid with typesetting, proofreading, graphic design, or marketing materials, for instance. Your publication process can be streamlined and time and effort saved by having access to such services under one roof.Think about your unique requirements and determine if the printing service can meet them.
Choosing the best book printing service is a crucial decision for authors and publishers. By defining your printing requirements you can make an informed choice. Remember, the right printing service will help you produce a high-quality book that captures your vision and captivates readers.