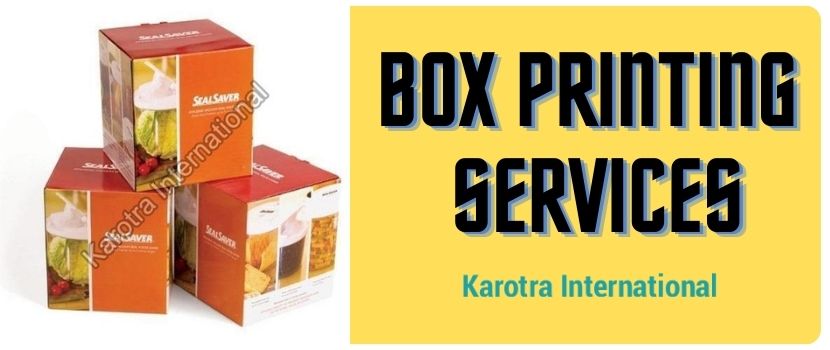 Box printing is the process of printing designs, logos, and other visual elements onto the surface of a box. You can do it by using a variety of printing techniques, including digital printing, flexographic printing, and lithographic printing.
While box printing may seem like a minor detail, box printing services can provide several benefits for businesses and consumers. In this article, we'll explore some of the key benefits of box printing.
Branding
Box printing can be a powerful tool for branding. By printing your brand name onto the surface of your boxes, you can create a visual representation of your brand. Your customers will surely remember it.
Customization
Box printing allows you to customize your boxes with unique designs, patterns, and colours that reflect your brand and products. This can help to differentiate your products from those of your competitors and make them more visually appealing to customers. Customized boxes can also help to communicate important information, such as product details, usage instructions, and warnings.
Protection
Box printing can help to protect your products during shipping and handling. Manufacturers design Printed boxes to fit your products perfectly, reducing the risk of damage during transit. Additionally, manufacturers construct printed boxes from sturdy materials. It provides additional protection against impact, moisture, and other hazards.
Sustainability
Box printing services can also be a sustainable choice. By using eco-friendly inks and materials, you can reduce your environmental impact. It can appeal to customers who are looking for environmentally responsible products. Additionally, manufacturers design printed boxes to be reusable or recyclable, further reducing waste and promoting sustainability.
Marketing
Box printing can be a powerful marketing tool. By printing special offers, promotions, and discounts onto your boxes, you can encourage customers to make repeat purchases. You can spread the word about your brand. You can use Printed boxes to advertise new products or product lines. It generates interest and excitement among your target audience.
Quality Control
Professional box printing companies have the equipment and expertise to produce high-quality, consistent results. They use the latest printing technology and techniques to ensure that your boxes look great every time. With professional services, you can be confident that your boxes are of the highest standards.
Expertise
Professional box printing companies have the expertise to produce boxes that meet your specific needs. They can offer advice on design, materials, and finishes. They can also help you choose the best options for your product and budget.
They can also guide regulations and requirements related to box printing. They ensure that your boxes comply with industry standards and regulations.
Information
Box printing can also be used to convey important information to customers. For example, printed boxes can be used to provide nutritional information, usage instructions, and safety warnings. This can help to ensure that customers use your products safely and effectively, reducing the risk of injury or harm.
Conclusion
Box printing offers a wide range of benefits for businesses and consumers alike. It can be used to enhance branding, customize products, provide protection, promote sustainability, market products, and convey important information.
Whether you're a small business owner or a large corporation, box printing can be a valuable investment. It can help you stand out from the competition and build strong relationships with your customers.